Welcome to the B&H Weekly Newsletter!
Thank you for subscribing to the B&H Newsletter, dedicated to sending you information on new products, technologies, and brands, plus hands-on reviews by our staff professionals. To get the most out of our email, we encourage you to select the product categories that best fit your personal needs.
B&H Weekly Newsletter:
The latest information on new products, technologies and brands, plus hands-on reviews by our staff professionals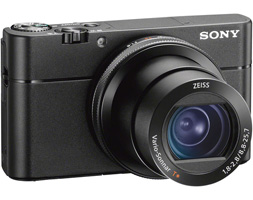 Sony Releases RX100 VA with Boosted Performance
Sony has made another addition with the Cyber-shot DSC-RX100 VA. This update is definitely for the better as the new "five-A" model is simply an improvement on the existing Mark V. Its main change is updated processing with the BIONZ X found in the just released Mark VI. READ MORE>
$998.00
AF 24mm f/2.8 FE Lens for Sony E
Now Shipping

Impressively compact, the AF 24mm f/2.8 FE from Rokinon is a slim wide-angle prime designed for full-frame Sony E-mount mirrorless cameras. Its wide field of view is ideal for landscape and street photography... READ MORE>
$399.00
Yongnuo Launches Trio of Full-Frame Prime Lenses
Yongnuo's refreshed prime lineup brings some much-needed life into a range of lenses that can cover a variety of photo subjects. The ultra-wide-angle full-frame YN 14mm f/2.8, available in both Canon EF and Nikon F mounts, offers a broad 114° view that is suitable for landscape, nature, night, and architecture photography. READ MORE>
$199.95 - $557.99
ULWS-216 Dual 16-Channel UHF Wireless Microphone Systems
The Polsen ULWS-216 is a dual 16-channel UHF wireless lavalier microphone system designed to transmit ready-for-broadcast audio up to 140' in conferences, houses of worship, interviews, theater production, and more. Available in both Bodypack and Handheld options.
$399.00

New Microphone Booms
Premium tripod manufacturer Gitzo has updated its line of carbon fiber boompoles with four new models featuring the company's proprietary Carbon eXact tubing. READ MORE>
$314.99 - $539.99

15.6" Pavilion 15 Notebook
The 15.6" Pavilion 15 Notebook from HP is a slim yet powerful system capable of handling everyday tasks such as browsing the internet, composing and editing documents, and streaming online videos. READ MORE>
$869.99

Silence the Noise with New iFi AUDIO iPurifiers
Audiophiles plagued by "noisy" audio due to DC power or USB devices can rejoice now that iFi AUDIO has released three new iPurifier models and a new sound damping rack for their compatible iFi AUDIO equipment. READ MORE>
$99.00 - $269.00
V35 ThinQ 64GB Smartphone (Unlocked, Black)
A feast for the eyes, the V35 ThinQ 64GB Smartphone from LG delivers a large 6" QHD+ OLED display with a FullVision display that features a cinematic 18:9 aspect ratio, and a stunning 2880 x 1440 resolution. READ MORE>
$849.99


Includes a free Google Daydream View Virtual Reality Headset 2017 Edition (Charcoal) Value: $99.99
Stylo 4 32GB Smartphone
The Stylo 4 32GB Smartphone from LG is designed with features and capabilities to maximize your mobile experience. The large 6.2" FHD+ FullVision display delivers a resolution of 2160 x 1080, giving you cinematic visuals for movies and gaming. READ MORE>
$299.00

Hurry! Deals End July 18, 11:59PM EST, or While Supplies Last (whichever comes first).
Prices, specifications and images are subject to change without notice. Not responsible for typographical or illustrative errors. Manufacturer rebates, terms, conditions and expiration dates are subject to manufacturer's printed forms.
The B&H SuperStore is located at 420 9th Avenue at 34th Street in New York City.
Visit and Experience B&H whenever you are in New York.